June 4th-June 8th, 2018
Vacation Bible School 2018 is Shipwrecked!
Come join us for a week of awesome fun and island shenanigans while we learn all about how Jesus can rescue us!
Vacation Bible School is one-week long summer program where kids come to play games, do crafts, and go on cool Bible discovery adventures! The program is available for kids entering Pre-k in the Fall all the way through 5th Grade. ALL children entering Pre-k MUST be potty-trained in order to participate! If your child just completed 5th Grade and is entering Middle School in the Fall, unfortunately, they cannot participate in the program; however, they can volunteer as a Station Leader Assistant until they are old enough to be a Crew Leader (must be at least 13 years old to be a Crew Leader).
The kids should arrive by no later than 8:15 am for Daily Mass, then they begin their island adventures!  Every day we wrap up at 12:30 pm.  The cost of attending is $75 per child.  There is limited space available, so registrations are regarded on a "first-come, first-serve" basis.  Please click on the link below to register your child(ren) for their Shipwrecked adventure!  *Please note that you may only use the form to register one child at a time.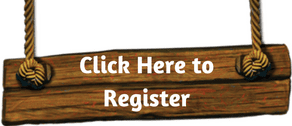 Your child(ren)'s spot is not guaranteed until full payment has been received.  You may either pay online, in person by cash or check or mail your payment to our office.  Checks should be made out to St. Therese de Lisieux Catholic Church.  If you choose to mail your payment to our office, please write ATTN: Faith Formation on the front of the envelope.